who we are
We are a small and passionate group that's focused on working with local artists, galleries, small business owners and curators. We are a non-profit 501(c)(3) organization.
what we do
We help artists sell their work through our mobile bidding app and live events. We DO NOT take a sales commission.
Are you an artist looking to sell and/or exhibit your work?
Are you ready to search for art and place bids?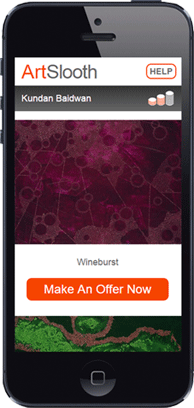 Download app or visit artslooth.org/app on your mobile device


Art Collector
Meet Natalie
"Great concept! ArtSlooth allows people to easily participate in art collecting by making it more approachable and fun."
Artist
Meet McKenzie
"Very cool and insightful. Not only did ArtSlooth help sell my work, I learned about its perceived value."
make it happen
Are you ready to take the next step? We'd love to hear from you. Check out the number of ways to get involved below.